Artistic Director
Lauded as "refreshingly original" by Alastair Macaulay of The New York Times, choreographer Miro Magloire is the founder and artistic director of New Chamber Ballet.
Magloire has created over 60 ballets in his signature style for his company, all distinguished by sweeping elegance, a striking theatricality, and bold musical choices. "It's heartening to see work so focused on the meeting of dance and music," Macaulay wrote in his Times review, "always you're aware of an intelligence at work that resists romantic cliché."

Known for his visionary collaborations with musicians - singers, violinists, pianists and large ensembles - Magloire has a special affinity for cutting-edge contemporary music, which has led him to work with many of today's leading composers.

Magloire, the subject of a 2008 full-page profile in the Sunday NY Times, recently received an O'Donnell-Green Music and Dance Foundation Grant. His works have been commissioned by Joyce/SoHo, Roulette, the Moving Sounds and Sonic Music Festivals in NYC, the Sarasota Opera, Grace Farms Connecticut, the Center for Faith and Work NYC, and the American Academy in Rome, Italy; and performed at the Jacob's Pillow Inside/Out Stage, Ailey/Citigroup Theater, the Center for Performance Research, the Museum of Art and Design, and Bramante's Tempietto at San Pietro in Montorio in Rome, among other venues. He has collaborated with the Argento Chamber Ensemble, Ensemble Moto Perpetuo, Ensemble Sospeso and, in addition, has created ballets for CelloPointe, Periapsis Music and Dance, the Columbia Ballet Collaborative, Central Pennsylvania Youth Ballet and the State Academy of Dance in Cologne, Germany.

Born in Munich, Germany, Magloire started his career as a composer. At age 17 he won the "Forum of Young Composers Award" in North Rhine-Westphalia, and went on to study with Mauricio Kagel at the Conservatory of Music in Cologne, Germany.

After relocating to New York to study Modern Dance at the Ailey and Martha Graham Schools, where his teachers included Yung-Yung Tsuai and Kazuko Hirabayashi, and ballet with Wilhelm Burmann and Peff Modelski among others, he turned his attention to choreography and in 2004 founded New Chamber Ballet.
In 2017 he was one of 25 arts leaders nationally selected for the Association of Performing Arts Presenters' (APAP) Leadership Fellows Program.
Dancer
Anabel Alpert started her early dance training in South Florida with Boca Ballet Theatre. She then went on to graduate from Miami City Ballet's Pre-professional program. Since then, Anabel danced with American Contemporary Ballet, The Sarasota Ballet and Ballet Austin. She has had the opportunity to perform featured roles in works by George Balanchine, Matthew Neenan and Sir Frederick Ashton. This is her first season with New Chamber Ballet.
Photo: Arnaud Falchier
Dancer
Sarah Atkins began her ballet training at State Ballet of Missouri under the artistic direction of Todd Bolender at the age of 9. She graduated from Southern Methodist University with a B.F.A in Dance Performance and a Minor in Art History. Since moving to New York she has performed with the Eglevsky Ballet, Ballets with a Twist, Ballet Next, MOVE: the company, CONTINUUM Contemporary/Ballet, Morphoses for Luca Veggetti's Bacchae, and Aspen/Santa Fe Ballet. She is a member of Emery LeCrone Dance. This is Sarah's tenth season with New Chamber Ballet.
Dancer
Elizabeth Brown grew up in Fort Worth, Texas, where she studied dance with Kathey Ward and Li Chou Cheng. She moved to New York City in 2000 to attend the Alvin Ailey School and Steps on Broadway. Currently, she trains with Willy Burmann and is also a member of ad hoc Ballet. She is a founding member of New Chamber Ballet.
Dancer
Megan Foley began her training at the International Ballet School in Colorado. Beginning in 2013, she studied at the San Francisco Ballet School under Patrick Armand, performing works by George Balanchine, Kenneth MacMillan, and Helgi Tomasson. In 2017, Megan joined Oklahoma City Ballet's Studio Company, where she performed featured roles in works by Robert Mills. Most recently, Megan was a member of New York Dance Project under the direction of Davis Robertson, where she performed in works by Gerald Arpino. This is her first season with New Chamber Ballet.
Photo: Arnaud Falchier
Dancer
Amber Neff began her training in New York at The Dance Design School, where she completed the RAD vocational examinations. She went on to train at the HARID Conservatory on full scholarship and later graduated from the the Jacqueline Kennedy Onassis School at American Ballet Theater. Amber has danced with Boston Ballet, Richmond Ballet, the Eglevsky Ballet, Intermezzo Dance Company, and Emery LeCrone DANCE, and is currently performing with the Suzanne Farrell Ballet and Claudia Schreier and Company. This is her eighth season as a member of New Chamber Ballet.
Photo: Tom Caravaglia
Dancer
Rachele Perla grew up in West Boylston, MA, and received her early dance training at the Boston Ballet School. Currently, Rachele is receiving her BFA in Dance at Fordham University/The Ailey School. She has had the opportunity to perform works by George Balanchine, Mikko Nissinen, Alvin Ailey, Adam Barruch, Amy Hall Garner, and Robert Hill.. This is her third season as a member of New Chamber Ballet.
Photo: Tom Schaefer
Dancer
Madeleine Williams trained in her native Australia at the Western Australian Academy of Performing Arts in Perth. There she appeared in works by George Balanchine and Nacho Duato, before joining the academy's LINK Dance Company. Madeleine has performed around the world including China, France, and the Netherlands. She recently relocated to the U.S. This is her third season as a member of New Chamber Ballet.
Photo: Tom Schaefer
Pianist
Melody Fader enjoys a busy career in New York City as a chamber musician, vocal accompanist, freelance artist, and teacher. Miss Fader has performed there in venues that include Alice Tully Hall at Lincoln Center and Carnegie Hall's Weill Recital Hall. Internationally, she has appeared in Germany, Belgium, England, Spain, Canada, Israel and at Italy's famed Spoleto Festival. In 2012, Miss Fader released an album of solo piano music by Frederic Chopin on Centaur Records, currently available for sale and download on iTunes and all other music sites. She is the founder and director of the Melody and Company chamber series, currently in its 3rd season, in which she also performs. She has performed solo piano roles for ballets at the Joyce Theater with Buglisi Dance Theater and the Dance Theatre of Harlem, and has toured as the Dance Theatre of Harlem's company pianist. Miss Fader has been a prizewinner at the Coleman Chamber Ensemble Competition and the Aspen Concerto Competition, leading to solo appearances as well as chamber music performances throughout the U.S. She is also on the piano faculty of the Greenwich House Music School in NYC. Miss Fader earned her Bachelor of Music from the Eastman School of Music, and Master of Music in Collaborative piano at the Juilliard School, where she studied with Margo Garrett. This is her fifteenth season with New Chamber Ballet. For more information, visit her website at www.melodyfader.com.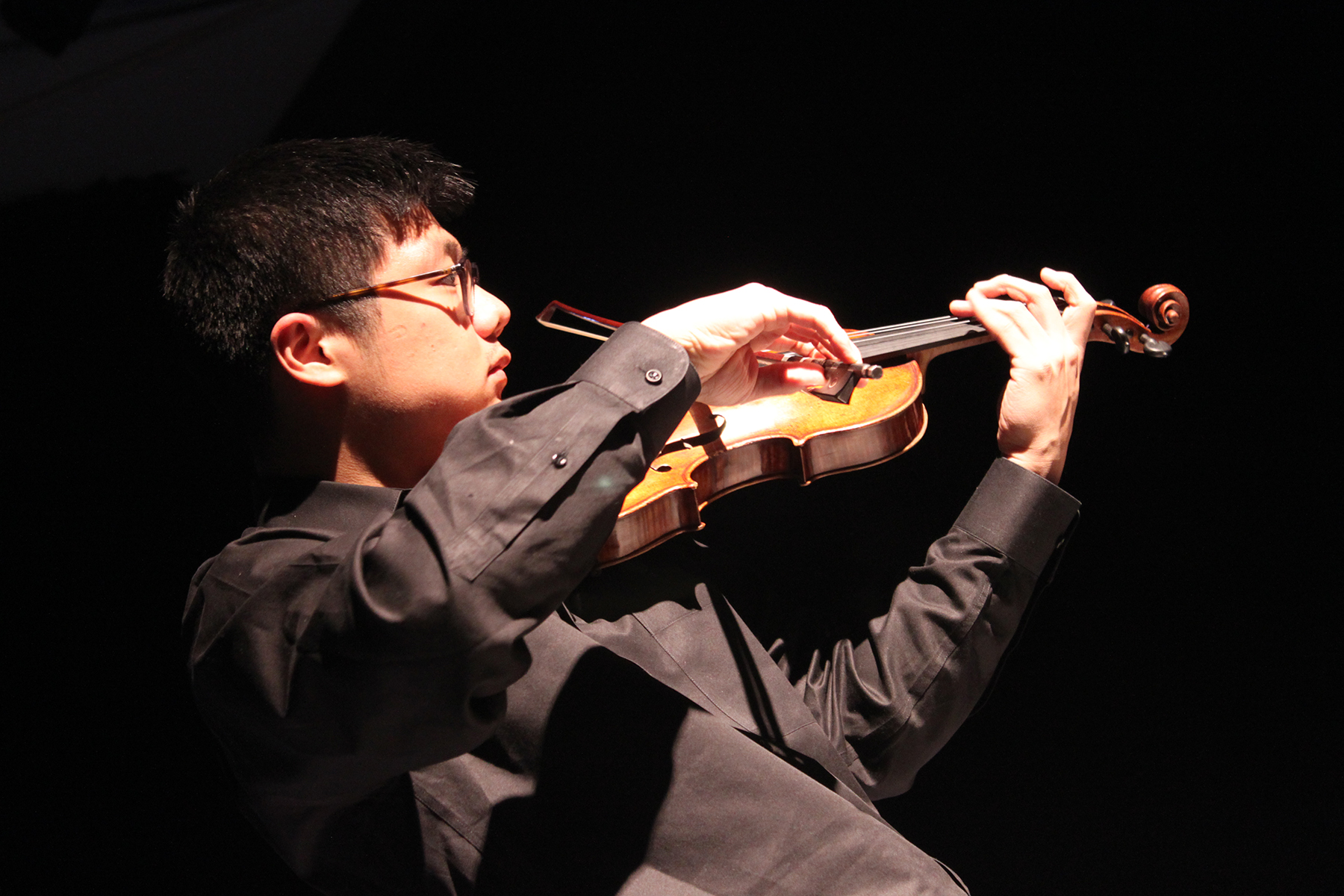 Violinist
Known for his sweet and "sumptuous tone" (New York Times), American-born Doori Na took up violin at the age of four and began his studies with Li Lin at the San Francisco Conservatory of Music. In the fall of 2018, he made his debut with The San Francisco Symphony performing Bach's Double Violin Concerto with Itzhak Perlman and Michael Tilson Thomas.
Currently living in New York City, Mr. Na plays with numerous ensembles around the city. He has played with the Orpheus Chamber Orchestra with tours in the US, Japan, and Europe performing in venues such as Carnegie Hall in New York and the Musiverien in Vienna. Mr. Na is also a member of Argento Chamber Ensemble performing works of living composers such as Georg Friedrich Haas, Beat Furrer, Tristan Murail, and many more.
Mr. Na attended the Juilliard School with the Dorothy Starling and Dorothy Delay scholarships and holds a Bachelor's and Master's Degree where he studied under Itzhak Perlman, Catherine Cho, and Donald Weilerstein. He was concertmaster of the Juilliard Orchestra and was fortunate to play on a Guadagnini and Vuillaume violin from the Juilliard School's prestigious violin collection. This is his eighth season with New Chamber Ballet.
Resident Choreographer
Constantine Baecher is a dancer and choreographer who lives in New York, but divides his time between Europe and the US. He is the artistic advisor of Denmark's Copenhagen International Choreography Competition (CICC) and Cross Connection Ballet Company (CCBC), both of which he co-founded in 2007.
An active freelance choreographer, Constantine has created works for companies including New Chamber Ballet, the Royal Danish Ballet, Cross Connection Ballet, KUNST-STOFF San Francisco, MoveiUS (Washington DC), the Columbia Ballet Collaborative and the Lake Tahoe Dance Collective. As a dancer, Constantine performed with the Royal Danish Ballet from 2003-2011 and currently tours with the Carolyn Carlson Company based out of the National Theater of Chaillot in Paris. In 2013, along with former NCB dancer Christin Hanna he launched the Lake Tahoe Dance Festival and Summer Training Intensive.
In 2011 Constantine received the Albert Gaubier Award for his contribution to dance in Denmark, and was awarded an artist grant in 2012 by The Danish Arts Foundation.
Since 2006 he has choreographed twelve ballets for New Chamber Ballet, and was appointed resident choreographer in 2014.
Costume Designer
Sarah Thea is a New York designer for performing arts. Her designs for New Chamber Ballet have been seen regionally and in Germany, Italy, Guatemala and featured in the NY Times. Additional dance designs include Gibney Dance Company, DASH Ensemble, Susan Vencl Dance, Periapsis, Lake Tahoe Dance Festival, Traverse City Dance Project, and American Dance Festival.
Her designs for theater have been seen at The New Ohio, Ensemble Studio Theatre, Urban Stages, Theater for the New City, Triskelion Arts. Educational designs include Stella Adler Studio of Acting, The Lee Strasberg Theatre and Film Institute, The New School, Marymount Manhattan College. Thea also designs for opera, film, and is a Teaching Artist with Roundabout Theatre Company.
She has been New Chamber Ballet's costume designer since 2013.